Email has become fundamental in today's society and has undergone great development, so much so that it is essential in our day to day. Nowadays there are numerous communication channels to carry out your digital strategy, we are going to show you one of them, email marketing. The email marketing strategy consists of sending large-scale emails to users who we can consider.
Customers or potential customers, who are in our database, through their registration in our newsletter, the download of a lead magnet, contact form, or the purchase of one of our products, among other actions.

From this database, the first segmentation is made according to whether it is a "hot" or "cold" lead. This refers to the probability that that lead or user acquires one of our products or services, depending on the phase in which they are in the purchase cycle. A cold lead is in the initial phase of the purchase, while a hot lead is in the final phase, practically ready to buy; therefore each one will have a different strategy.

Subsequently, the strategy to follow with the emails is designed. It is necessary to determine what objectives are pursued, what type of content it requires, and what type of users it will be aimed at. Going into the design, the last step is to make the specific design of the emails, by groups of recipients, aspects such as the message, its design, and structure.

In this way, we would have a structured database, a correctly defined strategy or strategies, and a series of emails designed in a coherent way and ready to send. A channel that is undoubtedly ideal for sharing any type of message or content, sharing promotions, reporting an event, sharing a newsletter…
Is email currently so relevant?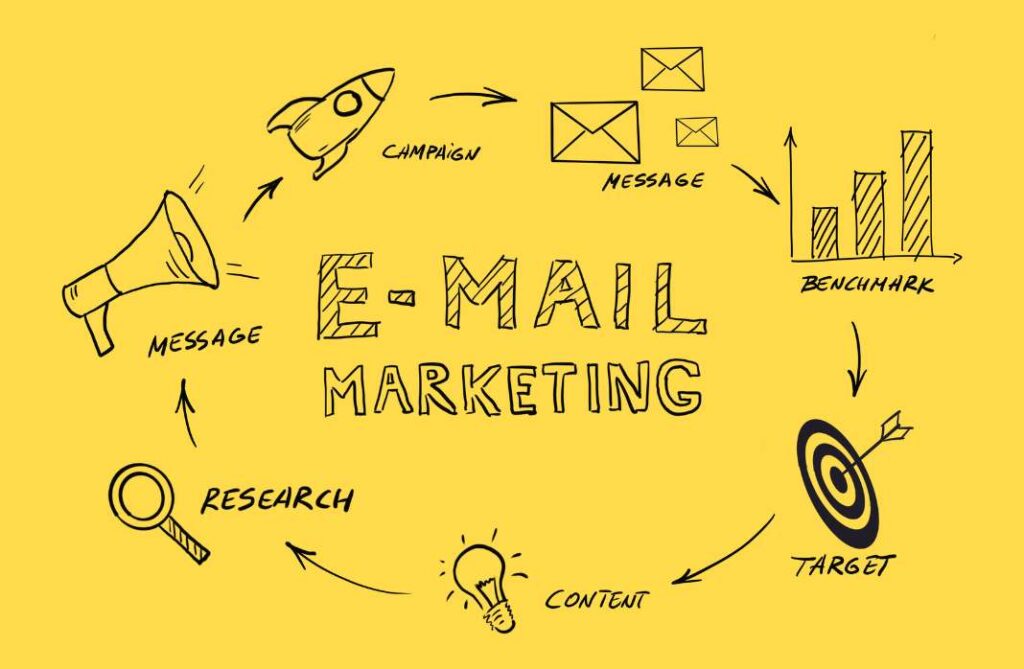 Email marketing is a high-value communication channel for companies, both large and small. People need this tool for work or personal communication and, therefore, that dependence on email translates into an excellent marketing opportunity for brands.
Next, we tell you what are the main advantages of email marketing.
10 Advantages of Email Marketing for companies: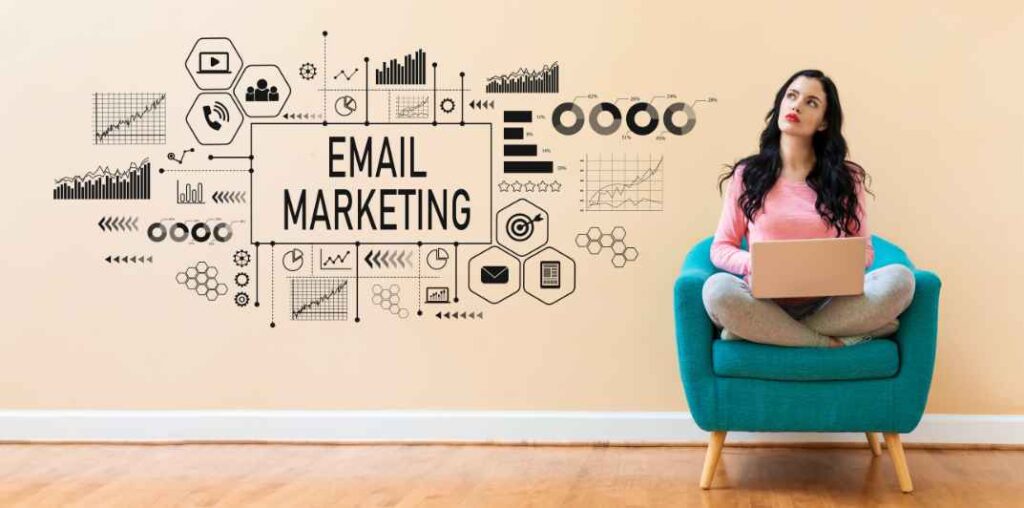 1. High percentage of reach
According to Hubspot, in 2021 3.9 billion people use email daily, a figure that is estimated to reach 4.3 billion in 2023. Almost 60% of the people surveyed consider that the marketing emails they receive from brands influence their purchase decision. In fact, email marketing campaigns with good segmentation have been able to increase their generated revenue by 760%.

2. Accessible and easy to use
On the one hand, for the user, it is a very accessible way of communication, since for him to receive us, he will only have to check his mail as he does daily and our mail will be in the inbox. Once the mail arrives in the inbox, its opening will depend on several factors: if we have made an attractive subject that invites you to click inside the mail, once inside if we have designed it well and with a clear and concise message that attracts the user and if the subscribers are of quality, that is, that those to whom the mail arrives are subscribers interested in your product/service and according to its characteristics. Hubspot said half of the emails are opened from mobile.
On the other hand, if we talk from the perspective of the person/company that wants to start in email marketing, you can start little by little to learn the basics of it and design simple campaigns. For those who already have some experience, the possibilities multiply, without limits to creativity. For example, with an ebook that you can create with your team in a short time, you will provide great value for the client, being able to attract more subscribers with it.
3. You target a quality audience
In these cases, since the client has left us his email, it is based on the basis that he is a receptive customer and willing to continue with the brand. Therefore, if we manage to design attractive and interesting emails for our audience, we can find higher quality traffic for our website. It is a client who has already been interested in us and who can continue to generate value for the company if we carry out effective email marketing campaigns -and of course, our products or services continue to meet their needs-
4. Wide possibilities to segment
You can target the specific audience that interests you thanks to segmentation. It is a great way to also get to know your customers, being these users who have previously and voluntarily provided us with their contact. From the first emails, we can segment and depending on the results, get to know our audience better. Within this we find different customer profiles, so you will learn to send the right message to the right people at the right time. Demographic characteristics such as age or gender; location and personal interests will be determining variables for the success of your campaign.

5. Measurable
As with any other marketing strategy, it is necessary to measure and analyze the results of the action. In the case of email marketing campaigns, it is especially simple. The main tools of this type make available to the user reports of their campaigns in real-time so that you can learn and determine the best way to carry out your campaigns, where users click the most, which is what they like the most, etc. The idea is that you observe what works and what does not work, being able to improve the message and thus achieve greater interaction. In this line, it should be noted that it is an ideal channel to perform A/B tests. Select between 5% and 20% of customers from your database and divide it into two groups to send a different version to each one. Try different subjects, designs, and copies, analyze the results and you can launch the final email for your campaign. Of course, you must know what your most important metrics are, we list some of the main ones:
Open rate: represents the percentage of emails that have been opened according to the total number of emails sent. Basically, it informs you about the success that the subject of the email has had.
Click rate: represents the number of times customers have clicked on the links that may be inside the email.
Unsubscribe rate: You should keep track of the percentage of people who choose not to continue receiving your communications. A good way to better adjust your message or finish configuring your audience is to analyze how many people are unsubscribed and when they do it.
6. Economical and scalable
The cost of sending emails is minimal, it will depend mainly on the type of tool you use, but in general terms, it is cheaper than most communication channels. Especially if we take into account benefit number 3 of this post -The quality audience-, because we will be addressing a quality audience for us at a relatively low cost. Without a doubt, a very affordable option for any company.
Keep in mind, in addition, that we can create databases with the number of people we want, since we can choose to have a few or increase the amount to reach 50,000 people, without this involving a huge investment as it would be with other channels. In fact, it is normal for the cost per user to be reduced the larger the database.
Pricing Plans for the Top Five Email Marketing Platforms
Mailchimp: It offers a free version, a basic plan of $11, a standard plan of $17 for faster growth; and a premium plan of about $299.
Acumbamail: In addition to a free plan, it offers you to pay according to the number of subscribers or the number of monthly shipments to be made. Prices range from €61 per month to €22.
Activecampaign: After 14 days of the free trial, it offers 4 subscription plans, ranging from $29 / month to $49 / month.
e-Goi: It offers a free lifetime plan with limited shipping and 4 payment plans that vary between €7.99 / month and €300 / year -plan for companies-.
Sendinblue: Offers a free subscription with up to 300 daily shipments and unlimited contacts. Payment plans start at $25 / month.
7. Automatable
The fact that email marketing tools are automatable means that you will not have to be aware and worried about sending emails. Automation allows you to save an immense amount of time that you can spend on other tasks. What if you want to send emails to customers or subscribers in certain circumstances? If you have thought about sending emails to your customers for their birthdays, or when they perform a certain action on the web, do not worry because you can also schedule these shipments. Depending on your needs, you can consider the option of hiring an external tool to automate your digital marketing.
8. High ROI
The efficiency of email marketing will amaze you since it has been determined that the average Return on Investment (ROI) for these actions is 40 euros for each euro invested (DMA, 2019). This factor is to blame for a large number of companies considering email marketing to be the best marketing tool. Adjusting to updated data, email marketing is the second online channel with the highest average conversion. Flat 101's annual study shows conversions by channel, with referrals channel accounting at 4% and email marketing at 3.7%.
Even so, and as we have been commenting, do not expect to reach surprising figures if your emails are not well designed or if your database is not qualified. Do not focus on enlarging your database, focus better on your bag being of quality. The idea of all this is that you are communicating with users who are interested in your brand. Otherwise, your open rate will be minimal and your entire strategy will be worthless.
9. Great potential as a source of traffic
One of the biggest benefits, if you run an efficient campaign, is being able to attract traffic to the web. But it is important to design in the best possible way so that we manage to reach an interesting open rate. If we succeed, we can be satisfied. Imagine that we send the campaign to 5,000 people, with an open rate of 40% or 50%, we will have managed to generate between 2,000 and 2,500 visits to the web with one action. To determine the structure and content of the email well to ensure a positive open rate, and also make sure that your website is correctly configured so that that generated traffic does not end up being thrown away. The user must be comfortable on the web and find quality content so that they do not leave.


10. You build customer loyalty
At the end of the story, the goal is for the customer to be truly interested in our brand and decide to continue by our side, following our steps and making a purchase from time to time. In other words, the idea is to build customer loyalty. There will be campaigns with which you seek to generate a short-term result, such as a sales conversion; but we recommend that you take a long-term approach so that you seek to create a relationship of trust with customers. To do this, offer valuable content and treat them properly, so you ensure that your customers accompany you longer and the Customer Lifetime Value is higher – this is an approximation of the benefit that the client has brought to the company throughout his life. It applies the knowledge of inbound marketing, the methodology that seeks to get customers by creating tailor-made experiences. If you want to build customer loyalty, don't overwhelm your audience and send relevant content at the right time.

This has been the list of the main benefits of email marketing for your company. If you have not yet used this strategy, or it has not given you the expected results, it is time to get with it and work on the tool. With email marketing you can enhance your brand, making known what interests you and maintaining your presence in the customer's mind.
As we have said, you will need your strategy to be optimal for it to work well. If you need to propose an email marketing strategy, do not hesitate to contact us. At Techvilla as digital marketing and strategy professionals in Inbound Marketing, we will be willing to help you with everything your brand needs for your project.